Cork (Irish: Corcaigh — from corcach meaning "swamp") is the second largest city in the Republic of Ireland and the island of Ireland's third most populous city. It is the principal city and administrative centre of County Corkand the largest city in the province of Munster. Cork has a population of 119,143, while the addition of the suburban areas contained the county brings the total to 190,384. Metropolitan Cork has a population of approximately 274,000, while the Greater Cork area is about 380,000.
There is a rich cultural heritage in Cork city and students of the South of Ireland Language visit all the landmark tourist attactions which the city has to offer. Some of these tourist attractions are described below and in depth information can be found on these atttractions by visiting the links on the right hand side of this page.
Cork has a reputation for rebelliousness dating back to the town's support of the English Pretender Perkin Warbeck in 1491 following the Wars of the Roses. As a result, County Cork has earned the nickname of "the Rebel County", while Corkonians often refer to the city as the "real capital of Ireland", and themselves as the "Rebels".
The city is built on the River Lee which divides into two channels at the western end of the city. The city centre is located on the island created by the channels. At the eastern end of the city centre they converge; and the Lee flows around Lough Mahon to Cork Harbour, one of the world's largest natural harbours.The city is a major Irish seaport; there are quays and docks along the banks of the Lee on the city's east side.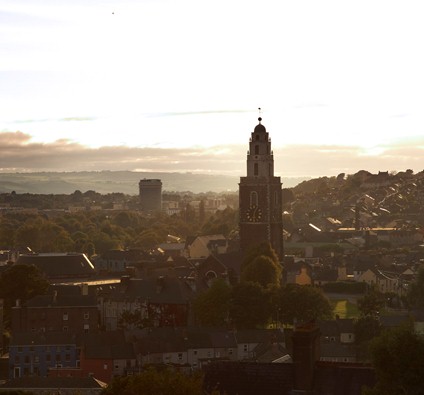 Shandon Steeple in Cork City